Project Context
"The concept not only saves time but also increases quality assurance and patient safety." - Prof. Dr. Hohenberg.

With Ayu, we aim to give caretakers back more time for direct patient care in nursing homes.
Through a combination of voice assistance and machine learning, Ayu accompanies the caregivers in their daily routine, listens to what is happening, and simultaneously documents each care taking action that has been provided. In this system one can implement many diverse functions such as automatic medication re-order, tracking of the mental health of residents, daily and personal updates for relatives and much more!
Ayu can take over administrative tasks, free caretakers from the burden to track everything themselves and gives back time for direct contact with the residents. Their only job then is to check whether Ayu has correctly recorded what has been done.
No more long, tedious documentation at the end of each shift - thanks to Ayu, the little digital care assistant.
Want see our pitch presentation: please click
here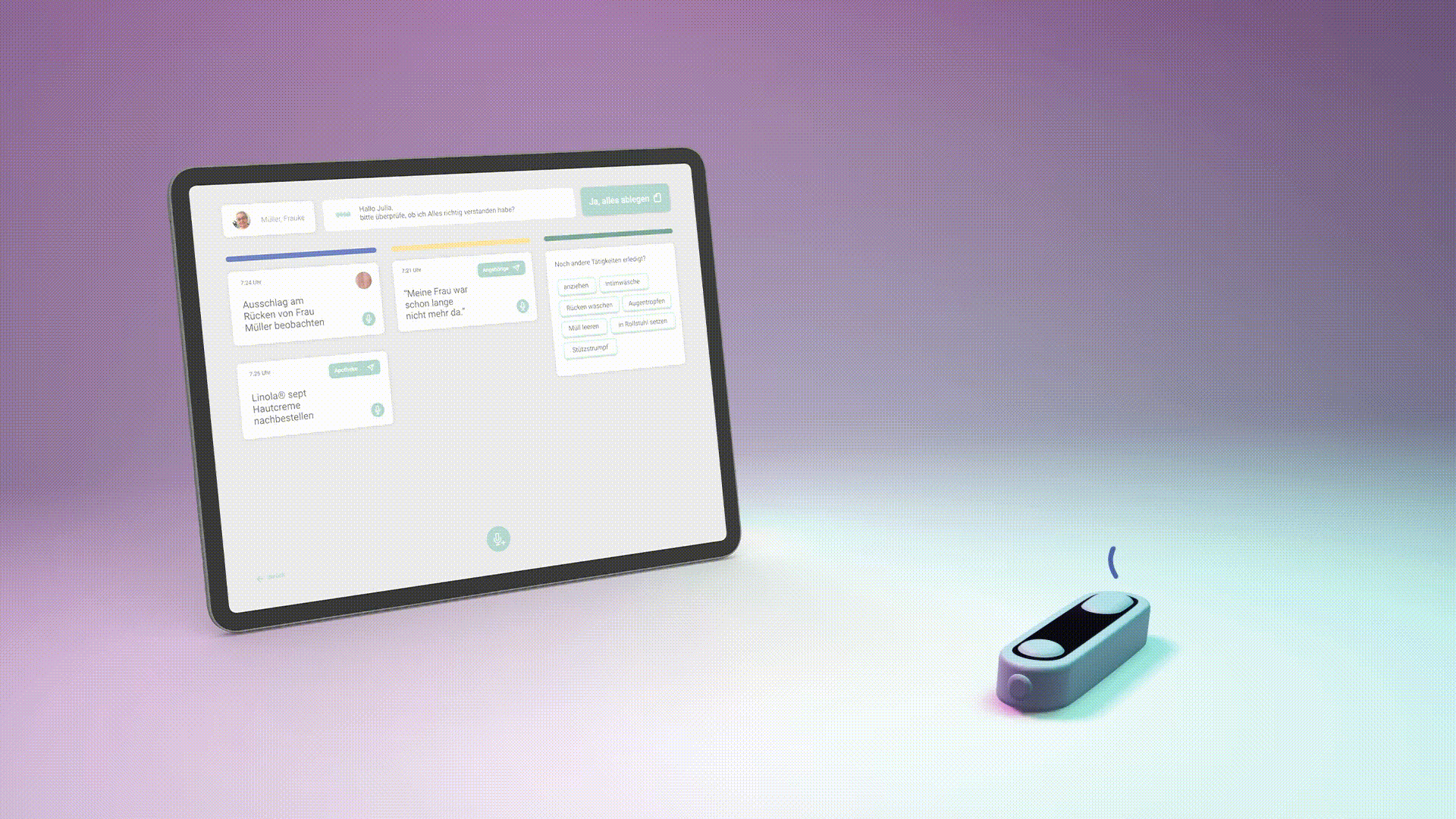 This project is dear to me. My grandma had to live in a nursing home and I did an internship during highschool at a nursing home that was focused on patients with dementia.

In addition my team and I interviewed male and female nurses and asked them about their biggest challenges in their day to day work. The result: insufficient numbers of newly trained nurses, lack of investment in nursing by the healthcare system, shortage of nurses in many wards and the resulting overload.

When we introduced the Ayu concept to them we received overwhelming feedback. My hope is that I can continue working on Ayu and introduce innovations to the caretaking system because I strongly feel that digital solutions are much needed here.
Ayu Care Assistant - 4 Semester, Invention Design -Concept, Sketching, Interviews, Research, Product Design, UX/ UI Design



---